A credit bearing summer/winter school programme will take place in Mozambique during the first year of the project and another one in Cape Verde during the second year. Each summer/winter school will run over 10 days and will bring together +/- 30 participants representing teachers, students, key policy makers, traditional leaders, NGOs dealing with humanitarian action, and community members. Refugees and those directly impacted by humanitarian disasters will be targeted for inclusion.
The lessons learnt in year one, will be used to develop the new modules, and to adapt existing modules to include Humanitarian Action in the curricula of all the partner institutions. Field visits to Humanitarian Action organisations will be part of summer/winter school.
The focus of the summer/winter schools will be on issues such as geo-political, technical, logistical and management aspects of Humanitarian Action; the relationship between topography and infrastructure and vulnerability in disasters; child protection in emergencies; gender in climate change and displacements; the ethical and value dimensions of Humanitarian Action; participatory methodologies in working with communities; intersectionality; the acquisition of essential skills such as conflict resolution and mediation; active listening, and cultural sensitivity and responsiveness; and the use of reflexive dialogue with community members, with an emphasis on working with people in egalitarian ways.
Summer School in Humanitarian Action "Humanitarian Action in the context of Climate Change and armed conflict"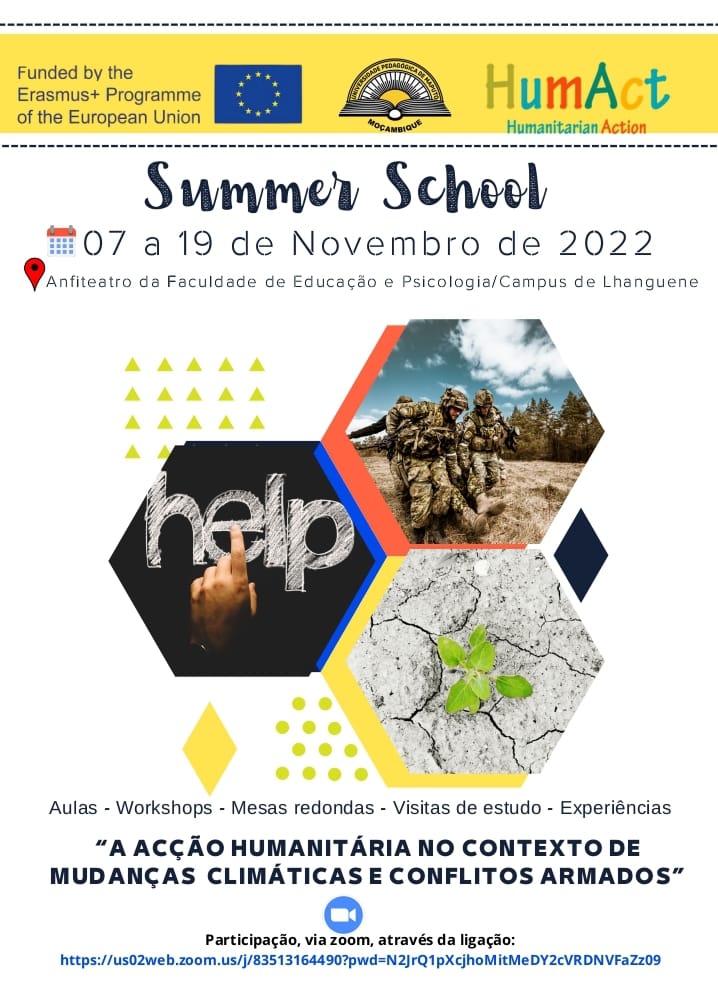 From the 7th to the 19th of November 2022, the Pedagogical University of Maputo carried out, in partnership with the Mozambican Universities (Rovuma and Pùngué), Cape Verde Universities (Santiago and Cape Verde), ISCTE and the University of Athens, the 1st Summer School of HumAct project, under the topic "Humanitarian Action in the context of Climate Change and armed conflicts".
CONTEXTUALIZATION
In recent years, several regions of the world have been devastated by natural disasters, economic and social crises, armed conflicts and other types of catastrophe and epidemics, which mainly affect the most vulnerable population groups and territories. These situations generate a growing need for humanitarian action in the world.
Humanitarian Action must adopt strategies to promote training and awareness programs in all social spheres that can help reduce the population's vulnerability and minimize the impact of these situations. Therefore, it is essential to have a global understanding of situations and master different areas of knowledge.
GOAL
This school aimed to provide participants with basic knowledge on how to act in humanitarian crisis situations, in particular the development of critical capacity, reflection and identification of strategies and methods that are applicable in different humanitarian situations.
METHODOLOGY
The summer school was facilitated by professors from partner Universities, guest speakers, national and international researchers with renowned experience in the themes they addressed. It was organized with thematic sessions developed by the partners, round tables, guest speakers as well as field visits and group work.
PARTICIPANTS
Teachers, researchers, partners of the Pedagogical University of Maputo, students, non-teaching staff, representatives of civil society and non-governmental organizations with an interest in humanitarian causes.
An average of 56 students from 3 Mozambican Universities and about 33 teachers from 4 partner Universities participated in this summer school.